"The evening was truly enchanted…combined exceptionally talented musicians (Julie Rivers' Starry Night Trio) outstanding musical compositions, and the gentle night air for an unbeatable combination." --- Botanica, The Wichita Gardens                                                       
"…beautiful piano selections from Julie Rivers; she has a great deal of talent."   Delano Lewis, former President of National Public Radio
"A bouquet of melodies...riding on meadow breezes with undulating piano runs...all touched by the sun...bright warmth!  ---Ted Cox New Age Retailer                      
Her performance had authority, singing tone, poise, fluent technique, fiery virtuosity…made the stars twinkle with cascades of dazzling arpeggio passages, thrilling in brilliance.  Quite a triumph!" ---Fort Worth Star Telegram
"Ms. Rivers….led the audience on a captivating and pleasing musical journey….a joyful and skillful musical performance….Ms. Rivers' personable and informative narration followed the pattern of her musical titles in "One Starry Night" and "The Kiss of the Sun."…her easy manner and storytelling ability shows clearly in her confident and sensitive compositions.  The audience members also enjoyed the classical selections interspersed into the evening's delightful and well-balanced presentation.--- Ladysmith (WI) News
"…well schooled, well-skilled." --- Kansas City Star
"Julie Rivers fashions images with discernment, sensitivity and technical perfection… each tone skillfully molded and suspended in anticipation of the next."--- PenWomen Magazine, Washington, DC                     

"Joy seemed to pour through the pianist's (Julie Rivers) fingers…lifting the listener up through layers of ethereal spectrums." --- Scott County Record (KS)
"Julie Rivers is a skillful, sensitive pianist, whose taste and skill in phrasing and rubato I find especially satisfying.  Her fortes are rich, not accented, and she plays with ease and control." --- Pan Pipes Magazine
"...[Rivers is] a formidable pianist. Rivers' compositions, performance and new orchestrations prepared for the evening were undeniably successful." --- Michael Myers, Topeka Capital Journal
Review of One Starry Night CD         Kathy Parsons   mainlypiano.com
Pianist Julie Rivers is an incredible find! Classy as well as classic, "One Starry Night" will beg to be listened to over and over.
Playing since the age of two, she won all the awards offered to pianists by the School of Music at The University of North Texas, where she graduated with high honors. With some of the best chops in the genre, Julie seems completely at home in the classical traditions as well as with jazz and blues.
An avid astronomer, the pieces tell the story of the hours and moods of "One Starry Night" to the dawn of the next day. The styles are varied, exhibiting Ms Rivers' versatility as a musician and composer. Randy Wills provides synthesized orchestrations, and Bob Bowman appears on several pieces on bass. Several other musicians join Julie on "Midnight Blue (Nocturne)", and Lars Peter Larsen plays a mean Spanish guitar on "Senorita de la Noche Estrellada".

My favorite track on this outstanding album is "Midnight Blue (Nocturne)", a slinky bit of jazz ensemble playing. The "band's" parts were composed by Frank Mantooth, a noted arranger and musician, and a former college classmate of Julie's. The album opens with "Meridian Crossing", a piece that reminds me of some of Suzanne Ciani's earlier work. Full of optimism and hope, it soars to the heavens. "Sunflower Fields" is also full of warmth and joy. "Aphrodite" shimmers as the Greek goddess of love leads a flirtatious chase through the twinkling stars.
"Star Pool" is much more free-form and ambient, reminding me just a little of Clara Ponty's work. The piano dances and swirls on a backdrop of synth voices and floating instrumental color - a very effective and beautiful piece. "Senorita de la Noche Estrellada" is a bit of a surprise with traditional Spanish rhythms and phrasings. "Soul Thoughts" is a dark and bluesy piano solo - great stuff! "Spheres and Seraphs" could only have been composed by someone who has played lots of Mozart and Haydn. A lighthearted romp, it goes from a bouncy Classical era-styled theme to a sweet orchestral variation on the theme to a thumping rock version and back to a chamber group. Very upbeat and lots of fun, this piece is bound to bring a smile!

Classy as well as classic, "One Starry Night" will beg to be listened to over and over again. I can't wait to see what Julie Rivers has up her sleeve for her next album!
Review of The Kiss of the Sun CD     Kathy Parsons  mainlypiano.com
True to its title, "The Kiss of the Sun" spills over with warmth and sunshine.
Classical in its scope and sophistication, the music is timeless in its mood and message. Inspired by nature and poetry, Julie Rivers' fifth piano album shimmers. Most of the pieces are orchestrated, and children's voices as well as sound samples taken from nature make "Kiss of the Sun" a very full and rich listening experience.
 I absolutely love "Heartbeats", which is passion set to music. The least orchestrated piece on the album, it is slow, earthy, and haunting - and so very intense. Amazing stuff! The piano is accompanied by synth strings, the sound of wind, and at its peak, voices. I can't imagine anyone being untouched by the fierce beauty of this piece - worth the price of the CD by itself!
 "How Many Angels" is another favorite. Composed in appreciation for her brother, Ted, Rivers' warmth and love touch deeply. Mostly a piano solo with synth strings and innocent-sounding voices, the piece uplifts and soothes. "Sad Birds" and "When The Sun Goes Down" are more jazz-influenced with Kim Park on flute and sax respectively. "Sad Birds" is downright bluesy, showing just how versatile this artist is. "Mountain Stars" was inspired by the beauty of the stars at night in Sun Valley, Idaho. It is dark and spacious, and yet glittering. It is very easy to lose oneself in this piece, picturing the black sky with its millions of stars twinkling above, feeling both alone and as one with the universe. "Daystar" swirls and soars in celebration of life and the sun - pure joy flows through this piece. "I'll Give Myself to the Wind" tells the story of a walk in a meadow before a storm, escorted by dozens of butterflies and a dragonfly, with birds soaring overhead. Peaceful and serene, a lovely experience.
Julie Rivers is a relatively new discovery for me, and I am really impressed with the strength of her composing and playing. I would say her music is much more classical than new age, but most contemporary instrumentals end up in the new age category anyway. Open and heartfelt emotions conveyed with top-notch playing skills are a winner in my book!
Review of Christmastide CD    Kathy Parsons    mainlypiano.com
Once in awhile one comes along that is so good that I enjoy listening to it despite being "up to here" in "Jingle Bells". "Christmastide" is such an album.
I have to preface this review by saying that, as a piano teacher, I am inundated with Christmas music from the end of October through the holidays, so I do not make it a habit to seek out Christmas albums. Once in awhile one comes along that is so good that I enjoy listening to it despite being "up to here" in "Jingle Bells". "Christmastide" is such an album. The selection of pieces includes some standard traditional pieces, some original works, and an assortment of unusual pieces from around the world. Julie Rivers' incredible piano soars above accompanying choirs, flute, harp, strings, and synthesized orchestrations. While classical in tradition, the arrangements are so fresh and sparkling that they take on new life.
The pairing of the haunting "Coventry Carol" with the sweet "Away in A Manger" is a perfect medley. "Still, Still, Still" is given tender treatment in a gorgeous arrangement. Then there is a grouping of four carols from Sweden, Czechoslovakia, and Poland that range from gentle to rousing. "I Wonder As I Wander" , an Appalachian hymn, is darkly beautiful with an almost bluesy/Gershwin feel. "God Gave Us Life", composed by Randy Willis, is a wonderful new piece with a simple but heartfelt melody.
"Baby Jesus, Sleeping Softly" was composed by Julie's son, Art, at the age of eight - what a sweet treasure! Julie's original "How Many Angels" is my favorite piece on this excellent CD - truly too beautiful for words. The CD closes with an incredible duet of Gounod's "Ave Maria" played by Art Rivers on violin over Julie Rivers playing the Bach "Prelude in C" on piano - an amazing piece that should elevate anyone's heart and spirit with its beauty.
 I am so excited to have discovered this wonderful pianist! This and her other recordings are available from Earth Star Records at www.earthstarrecordings.com
Review of As Far As the Heart Can See CD   Kathy Parsons  mainlypiano.com
Pianist/composer Julie Rivers has created another stand-out collection of solo and ensemble pieces.
All of the fourteen tracks are original compositions except for the folk song "The Water Is Wide" which Rivers arranged for her violinist son, Art. A resident of Kansas, Rivers dedicated the album "to the preservation of the tallgrass prairies and all the natural beauty of our Earth," and most of the pieces were inspired by nature. The majority of the tracks are quiet and serene, but several are orchestrated and two have a big symphonic sweep. The title track opens the album with a feeling of vast open spaces and a gentle sense of longing. Peter Larsen joins Rivers on guitar, and the piece also has some orchestration by Randy Wills - a beautiful beginning! The "Kanza Suite" consists of three lovely pieces: "Sweet Prairie Morning" is a gentle, peaceful ode to the "intoxicating" smell of prairie grasses on the warm breeze of a "dewy Kansas morning."
"Cradle Song" includes a recurring theme from "Sweet Prairie Morning" at a slower tempo accompanied by flute and nature sounds. "Ride the Wild Wind" is one of the "bigger," more orchestrated pieces and is a theme right out of the old west. "Butterfly" is a gorgeous expression of a Monarch butterfly resting on a wildflower in the prairie grasses; Rivers paints a beautiful vignette of perfect peace and the joy of discovering an unexpected scene of Nature's grace. "An Old Refrain" is shamelessly romantic with piano and violin melting the heartstrings - it could have come from an old movie! "Prayer at Twilight" is my favorite track on this CD. Hauntingly beautiful with the sound of children's voices accompanying the piano, the piece is the expression of tranquility and inner peace. Very classical in structure and scope, "As Far As the Heart Can See" is a joy from start to finish. Julie Rivers has been one of my favorite composer/pianists for some time now, and she just keeps getting better! Julie's albums can be purchased from earthstarrecordings.com, which also has samples and sound clips.
Albums and Downloads cdbaby.com

  As Far As the Heart Can See
joins Julie's very popular albums, One Starry Night and The Kiss of the Sun to create a lush romantic piano trilogy. Inspired by the beauty of the tallgrass prairies, the album is dedicated to their preservation and to all of the earth's natural beauty.
More Albums by Julie Rivers at cdbaby.com

Christmastide  
Beautiful new and old carols with rich orchestrations create quiet, reflective and magical holiday moods.
 James and Julie Rivers  
"Winning the hearts of their audiences wherever they play."
A collection of 20th century duo piano works recorded in live performances.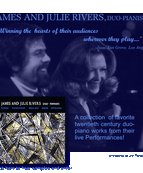 Visit the website of Eugenie Rocherolle......    the composer for whom Julie has recorded four albums on the Aureus Recordings label. Hear samples at CDBaby.com.

The HeartAid Project
Preview the HeartAid Project, piano solos of comfort and renewal. Born of the 9/11 tragedies, this album includes music by Julie Rivers and many other pianists.  All proceeds go to the HeartAid Project's mission of healing for families of 9/11.        
       Spring Hill Records