Contact Form For: julie@earthstarrecordings.com
We'd love to hear from you. Contact us by filling out the form below. Please type in your name and e-mail address to be sure your feedback will be sent.
Albums and Downloads cdbaby.com

  As Far As the Heart Can See
joins Julie's very popular albums, One Starry Night and The Kiss of the Sun to create a lush romantic piano trilogy. Inspired by the beauty of the tallgrass prairies, the album is dedicated to their preservation and to all of the earth's natural beauty.
More Albums by Julie Rivers at cdbaby.com

Christmastide  
Beautiful new and old carols with rich orchestrations create quiet, reflective and magical holiday moods.
 James and Julie Rivers  
"Winning the hearts of their audiences wherever they play."
A collection of 20th century duo piano works recorded in live performances.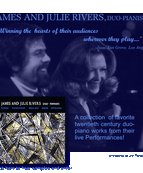 Visit the website of Eugenie Rocherolle......    the composer for whom Julie has recorded four albums on the Aureus Recordings label. Hear samples at CDBaby.com.

The HeartAid Project
Preview the HeartAid Project, piano solos of comfort and renewal. Born of the 9/11 tragedies, this album includes music by Julie Rivers and many other pianists.  All proceeds go to the HeartAid Project's mission of healing for families of 9/11.        
       Spring Hill Records