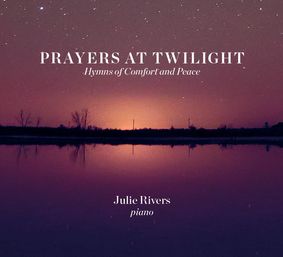 Calm piano solo reflections of beloved hymns and original music  by Julie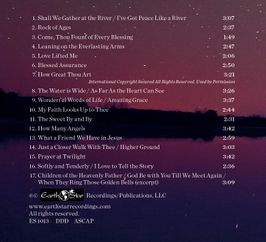 Available and hear samples at www.cdbaby.com/cd/julierivers2 or order by mail directly from EarthStar.  Your check or money order for $15 includes applicable tax, shipping and handling.  
EarthStar Recordings
PO Box 4462 
Topeka, KS  66604-0462
10% of every sale, download or stream goes to Doorstep, Inc., helping families in need in the Topeka, KS community.
 About Julie Rivers' music:
A bouquet of melodies...riding on meadow breezes with undulating piano runs...all touched by the sun...bright warmth!  --- New Age Retailer 
Contemplative keyboard melodies dance...Seems to speak of a new day and renewal. ---The Rebecca Review.com
Well schooled, well-skilled. --- Kansas City Star
Her performance had authority, singing tone, poise, fluent technique, fiery virtuosity...made the stars twinkle with cascades of dazzling arpeggio passages thrilling in brilliance.  Quite a triumph! --- Fort Worth Star Telegram
Pianist Julie Rivers is an incredible find! Classy as well as classic, "One Starry Night" will beg to be listened to over and over. --- Kathy Parsons, mainlypiano.com
One of the freshest most enthusiastic entertainers on the circuit today! -Knife and Fork Clubs 
 Undeniably successful! ---The Topeka Capital Journal
She pulled celestial beauty into the earthly atmosphere. --- Scott County Record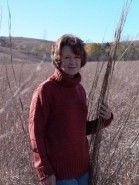 The music I write is inspired by the passion I feel for life, for each new day and for the Earth's beauty.  I hope listening to  these pieces brings joy into your life.---Julie Rivers 
And forget not that the earth delights to feel your bare  feet, and the winds long to play with your hair.  --- Kahlil Gibran
 God, I can push the grass apart / And lay my finger on Thy  heart. --- Edna St.Vincent Millay   
 Sometimes I go about pitying myself , and all the while I am being carried across the sky by beautiful clouds. ---Ojibway Indian saying
In beauty, I walk.  In the direction of the rising sun, I walk. To the direction traveling with the sun, I walk.  In beauty, I walk.  All around me my land is beauty.  In beauty, I walk. --- Navajo (Yebechi) chant

Albums and Downloads cdbaby.com
As Far As the Heart Can See 
joins Julie's very popular albums, One Starry Night and The Kiss of the Sun to create a lush romantic piano trilogy. Inspired by the beauty of the tallgrass prairies, the album is dedicated to their preservation and to all of the earth's natural beauty.
More Albums by Julie Rivers at cdbaby.com

Christmastide  
Beautiful new and old carols with rich orchestrations create quiet, reflective and magical holiday moods.
 James and Julie Rivers  
"Winning the hearts of their audiences wherever they play."
A collection of 20th century duo piano works recorded in live performances.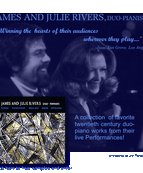 Visit the website of Eugenie Rocherolle......    the composer for whom Julie has recorded four albums on the Aureus Recordings label. Hear samples at CDBaby.com.

The HeartAid Project
Preview the HeartAid Project, piano solos of comfort and renewal. Born of the 9/11 tragedies, this album includes music by Julie Rivers and many other pianists.  All proceeds go to the HeartAid Project's mission of healing for families of 9/11.        
       Spring Hill Records